Custom Car Covers
Finding a car cover to protect you pride and joy can be quite a bewildering business, so let's take the mystery out of it. At Chief Car Covers, we make custom car covers for indoor and outdoor use. Our covers are perfectly tailored to fit hundreds of standard and unique car models sold in Australia and around the world. We also make unfitted display covers which are ideal for showroom reveals.
Indoor Use
The fact that weatherproofing is not needed enables the use of lightweight cotton – ideal for making stunning dust covers that fit snuggly and are ideal for short and long term use. Many weekend car enthusiast require a car cover to prevent dust build up during the week, but struggle to find one that fits their car, that's why. Our cotton dust covers feature:
•    Available in a range of colours
•    Light and easy to use
•    Washable
•    Protects against dust, dirt, animal fur, dropping and scratching
•    Suitable for occasional outdoor use.
Outdoor Use
If you store your vehicle outdoors you will need to give it total protection in all weathers. We make a water repellent outdoor car cover. Made from heavy canvas to help prevent it from blowing away, and double-stitched for extra strength, our outdoor covers are the perfect way to ensure your cars is free from the elements. Our water repellent car covers have the following features:
•    Heavy Duty
•    Long lasting
•    Hard wearing
•    Perfectly fitted
•    Breathable
•    Protect against dust, dirt, animal droppings, scratching and offers some protection against hail.
Car Port Use
If your carport gives excellent weather protection, you may use the indoor cotton car cover. If your carport lets in significant amounts of rain, an outdoor cover will be necessary.
Contact us to request an online quote or a fabric sample.
Available as a single colour…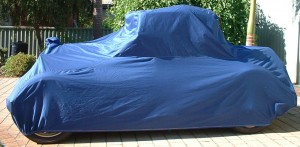 Or two tone as shown below.

Water repellent covers also available.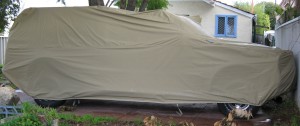 Contact Chief Car Covers to request
an online quote or a fabric sample
11 Duke Street Wannanup
Western Australia 6210
Mobile: 0405 974 954
Email: info@carcovers.com.au